Campaign Timeline
Campaign Timeline
The Campaign for Healthier Solutions is seven years old this year! Together with our partners, we've made important progress by securing key commitments from Dollar Tree and Dollar General to phase out priority lists of toxic chemicals from their private label products. But we still have a long way to go to protect our communities from toxic chemical exposure- join our mailing list for campaign updates!
2015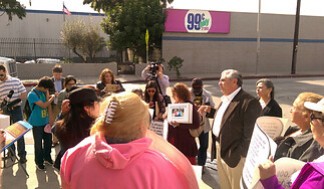 The Campaign for Healthier Solutions began in 2015 when Coming Clean and EJHA published A Day Late and a Dollar Short, a report showing that dollar store products, specifically products for children, contained toxic chemicals. Within the first year of the campaign's founding, campaign leaders and protestors delivered over 150,000 petition signatures to Dollar General, Dollar Tree, Family Dollar, and 99 Cents Only to phase out toxic chemicals from their products, and at that time, none of the companies made a commitment to do so.

Initial Campaign letters to the CEOs of the 4 largest dollar store chains
Letter to the CEO of 99 Cents Only
Letter to the CEO of Dollar General
Letter to the CEO of Dollar Tree
Letter to the CEO of Family Dollar
2016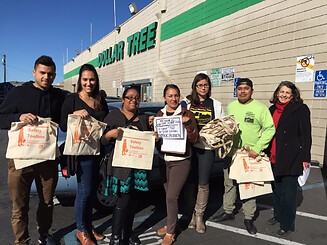 CHS and partners released "Buyers Beware" -a report which showed that nearly 75% of cans purchased from discount retailers contained Bisphenol A (BPA) in their lining. CHS, the American Sustainable Business Council, and the Learning Disabilities Association of America met with the U.S. Environmental Protection Agency and the Food and Drug Administration to press for action on toxic chemicals found in products purchased from dollar stores. Campaign supporters across the U.S. continued to put pressure on the dollar stores through demonstrations, shopper education events, media outreach, and by attending shareholder meetings.

2017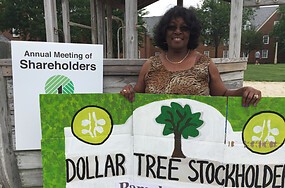 Dollar Tree (which also owns Family Dollar) sent out letters to their suppliers stating they would like to phase out 17 toxic chemicals from their products by 2020. However, Dollar Tree didn't outline the steps they would take to actually hold companies accountable for removing lead, BPA and other toxics from their products. They also failed to disclose how their suppliers responded. So CHS continued advocating, by sending affiliated stockholders to the Dollar Tree shareholder meeting to push for more specific, public commitments from the company. . Later that year, the Mind the Store Campaign released its 2017 Retailer Report Card grading major retailers on toxic chemicals in products and packaging, with support from CHS. Dollar Tree received a 'D' grade for its preliminary commitments, while Dollar General and 99 Cents Only Stores received an 'F' grade. CHS and partners continued to encourage all dollar stores to sign onto the Chemical Footprint Project.
2018
In 2018, campaign leaders and supporters continued attending shareholder meetings and sharing information about toxic chemicals in dollar store products. The 2018 Retailer Report Card showed again that dollar stores were lagging far behind other major retailers in taking action to protect their customers. Dollar Tree continues to make incremental progress, but again earns a 'D' grade. Its Corporate Sustainability Report indicates that its products are now being tested to determine the presence of 17 toxic chemicals. But it fails to disclose a timeline for these product tests, or sign onto the Chemical Footprint Project.
2019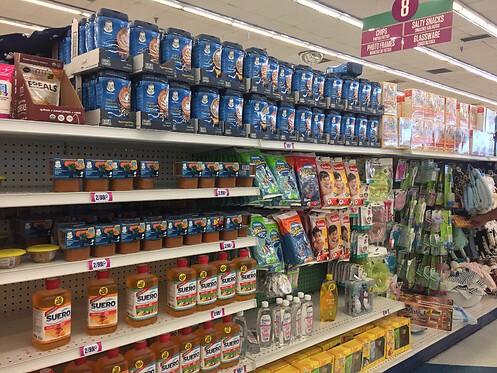 In a huge campaign milestone, Dollar Tree signs onto the Chemical Footprint Project! CHS attends Dollar Tree and Dollar General shareholder meetings, and also starts to make important inroads with Dollar General, which creates a chemicals policy to phase out eight toxic chemicals by 2023. In a meeting with Dollar General representatives, CHS encourages the company to start sourcing locally grown produce in four Albuquerque stores. CHS's work is covered by National Geographic.
But all major dollar stores still need to do a better job of protecting their customers. "What's In My Baby's Food?", a joint report by Healthy Babies, Bright Futures and CHS shows that 95% of baby foods tested contain heavy metals like lead, mercury, arsenic, and cadmium. Among the foods tested were products purchased from the dollar stores 99 Cents Only, Dollar Tree, and Family Dollar. The 2019 Retailer Report Card again shows that dollar stores are falling behind other retailers in protecting consumers from toxic chemicals. Dollar Tree and Dollar General earn a D+ and D, and 99 Cents Only Stores continue to earn an F for making no efforts to protect their customers.
To put pressure on 99 Cents Only Stores, CHS supporters hold a "Toxic Easter Egg Hunt" outside the company headquarters in LA.
2020
Dollar General publishes a Chemical Policy in its "Serving Others" report, committing to eliminate 8 priority chemicals- formaldehyde, toluene, triclosan, nonylphenol ethoxylates, butylparaben, propylparaben, trichloroethylene, and triclocarban- by 2022.
2021
Major progress! In February, Dollar Tree announced that it had successfully eliminated 17 priority chemicals from its private label products- including lead, BPA and asbestos from children's products. They also committed to eliminate the intentional use of:
PFAS chemicals and phthalates in packaging from all private‐brand food and beverage products by 2023,

PFAS chemicals from all private‐brand pet food products by 2024

the use of PVC in all private‐brand children's products by 2024.
The 2021 Retailer Report Card award discount stores the "most improved" retail sector overall- but not everyone made progress.
Dollar Tree improved from a D+ to a C+ but it still needs to publicly disclose its alternatives, so we know they are safe. And we're watching to make sure they follow through on eliminating and safely replacing all per- and polyfluoroalkyl substances (PFAS), toxic flame retardants, and phthalates in the products they sell. Dollar General earned a C- grade, making progress from its D grade in 2019. The company committed to eliminating 8 chemicals from Dollar General's private-label formulated products in the home cleaning and beauty & personal care categories by December 2022. But the company has not yet signed onto the Chemical Footprint Project, and has a long way to go in eliminating PFAS, toxic flame retardants, phthalates, and plastics of environmental concern from its products and packaging. 99 Cents Only Stores received another F with 0 points, for the fourth year in a row.
2022
The Campaign for Healthier Solutions, in partnership with Ecology Center and Environmental Defence Canada, released a product screening report showing that found that over 50% of items purchased at major dollar stores in 2021 contained chemicals of concern. Notably, many of these items included toys and other products marketed to children that were found to contain lead, PVC and phthalates. The report was covered by the Guardian, E&E News, NPR, Grist and Ecowatch.
Dollar General adds 11 additional chemicals to its restricted substance list: 1-bromopropane; asbestos;1,4-dioxane; hexabromocyclodecanes (HBCD); octamethylcyclotetrasiloxane (D4); lead and its compounds; cadmium and its compounds; bisphenol A (BPA); diethyl phthalate (DEP); dibutyl phthalate (DBP); and tetrachloroethylene (Perc).
2023
Dollar General signed onto the Chemical Footprint Project, a benchmarking metric that helps companies quantify the total mass of chemicals of concern in their products, and understand opportunities for safer chemicals in their supply chains.